SMO Services
---
Power of Social Media Marketing Services to Engage Potential Consumers
In the modern business landscape, social media has evolved into a compelling avenue for promoting goods and services. Regardless of their size, enterprises can leverage the potential of tailored social media optimization services in India to achieve remarkable outreach.
At LDS Group, we take charge of our clients' presence across major social networking platforms, including Facebook, Instagram, Twitter, LinkedIn, and YouTube. Our strategic approach harnesses cutting-edge social media marketing services to elevate your organization's visibility on these platforms. With a global clientele of over 32 clients and an impressive client retention rate of 92%, we stand as a reliable partner in this endeavor.
Through our SMO services, businesses unlock the ability to connect with their target audience, cultivate brand loyalty, and significantly enhance website visibility. Our custom strategies are meticulously aligned with your ongoing advertising objectives, offering a distinct advantage over competitors.
Our comprehensive social media optimization services encompass the creation and management of accounts on various platforms, curating compelling content that resonates with your audience, and orchestrating both organic and paid traffic generation. We prioritize amplifying brand visibility, fostering customer engagement, and optimizing content for enhanced search engine rankings.
Be it e-commerce, SaaS, B2B, or any other industry, LDS Group tailors its social media optimization services and strategies to suit your enterprise's unique requisites. Our adept team of social media experts devises solutions that align seamlessly with your organizational goals.
With a proven track record in delivering dependable SMO services, LDS Group stands proudly as one of the best social media companies in India. We offer comprehensive support in social media marketing, including the orchestration of organic and paid campaigns designed to attract potential customers.
For businesses in search of a reliable social media marketing services provider in India, LDS Group presents an unrivaled choice. Reach out to us today to access premium social media marketing services at affordable prices. Let our experts guide you in maximizing your social media presence, translating into tangible and desirable outcomes for your business.
ARE YOU LOOKING FOR BEST SOCIAL MEDIA MARKETING SERVICES?
LDS Group promises to produce outstanding results and improve your brand visibility, website traffic, and search engine rankings with Social Media Marketing Services in India.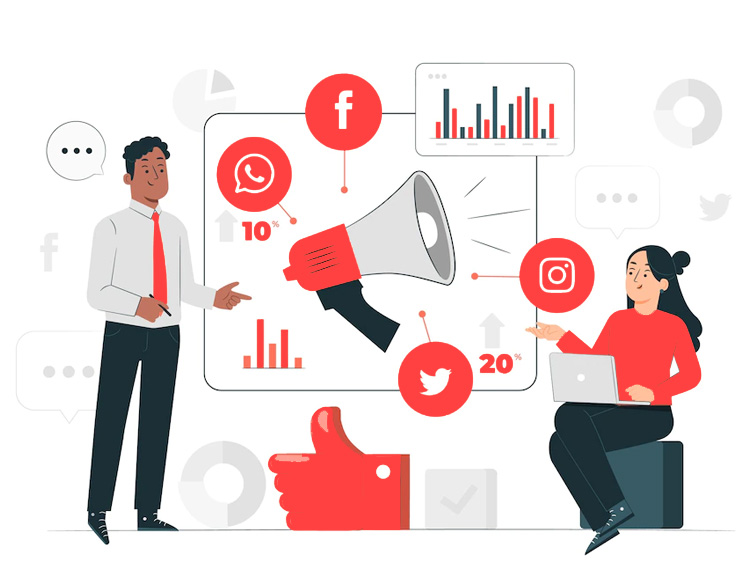 Empowering 100+ Agencies Across The Globe
Our Social Media Management Services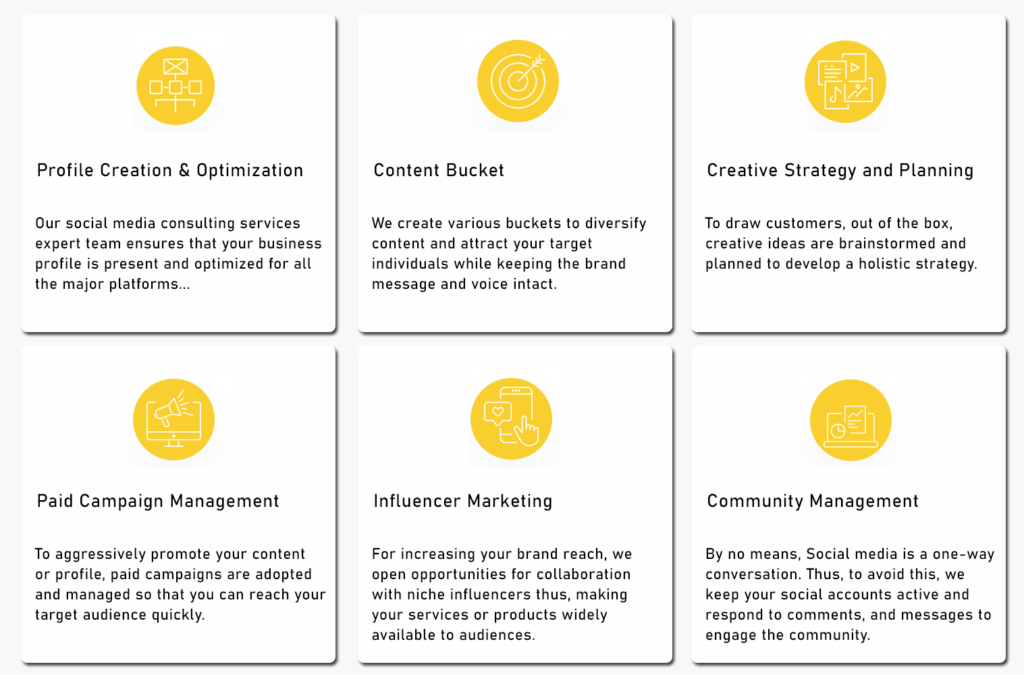 SOCIAL MEDIA MARKETING PLATFORMS WE CAN OPTIMIZE YOUR BUSINESS FOR
ARE YOU LOOKING FOR BEST SOCIAL MEDIA MARKETING SERVICES?
LDS Group promises to produce outstanding results and improve your brand visibility, website traffic, and search engine rankings with Social Media Marketing Services in India.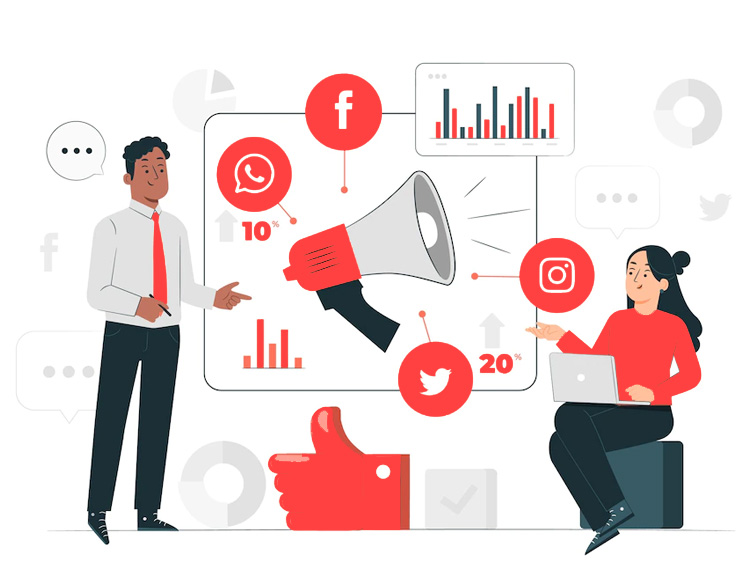 Social Media Success with LDS Group – Your Ideal Social Media Marketing Company
In the world of business, recognizing the paramount significance of social media is crucial. When searching for the best social media marketing agency in India, LDS Group stands out as a dependable choice. Why? Here's why we're among the top social media marketing companies in India:
Our Engaging Social Media Post Samples
Elevating brands through captivating social media content is our forte. Our portfolio boasts a trail of successful campaigns that have garnered clients' trust and yielded remarkable outcomes. Dive into our realm of creativity and effectiveness – here's a glimpse of our riveting social media post samples for your perusal:
ARE YOU LOOKING FOR BEST SOCIAL MEDIA MARKETING SERVICES?
LDS Group promises to produce outstanding results and improve your brand visibility, website traffic, and search engine rankings with Social Media Marketing Services in India.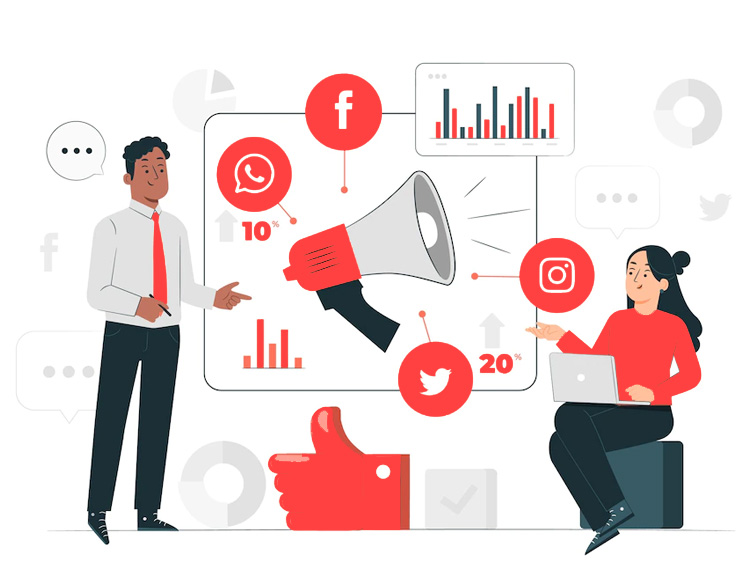 Mastering the Art of SMO: Dos and Don'ts
Optimizing on social media may seem elusive, but a well-executed strategy can establish you as a niche thought leader. Each step holds significance, with certain key practices to embrace and pitfalls to avoid. At LDS Group, we present a guide on navigating social media optimization in India effectively: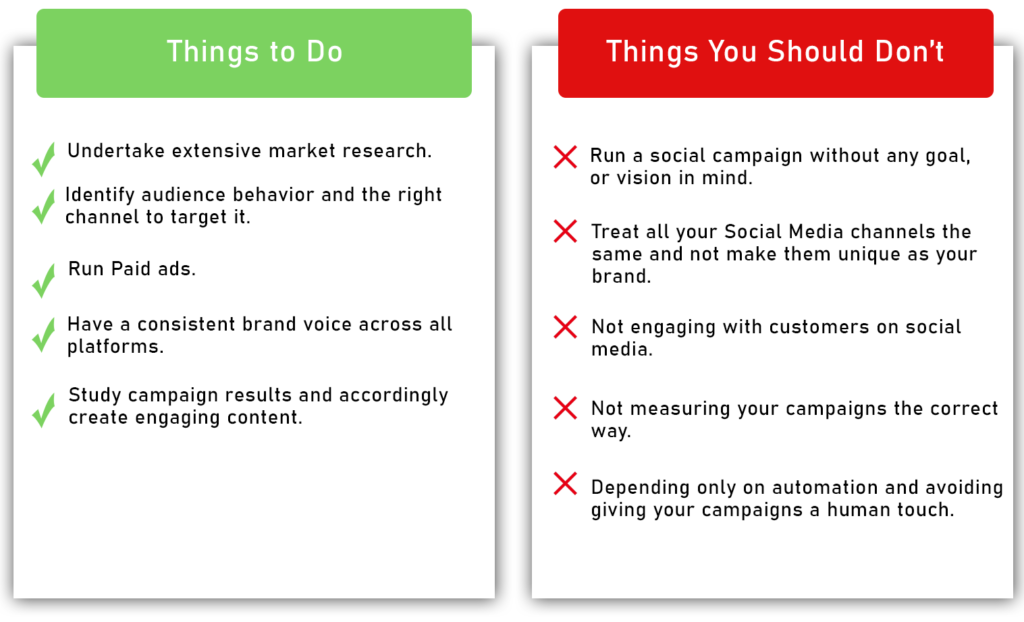 LDS Group: Your Trusted SMO Company for Best Social Media Marketing Services in India. Our SMO services ensure your social media marketing strategy is optimized effectively. Witness global success through our practiced approach.
Exploring the Dynamics of Social Media Marketing and Optimization
The digital landscape has undergone a seismic shift with the surge of social media platforms, fueled by the rapid rise in mobile usage. As these platforms gain prominence, businesses are harnessing their potential for showcasing products and services. At the heart of this transformation lies Social Media Marketing (SMM) and Social Media Optimization (SMO), ethical strategies that drive account growth and amplify brand reach.
1. Defining Social Media Marketing and Optimization
Social Media Marketing is a multifaceted process that leverages various platforms to promote businesses, products, or brands. It's an art that involves crafting tailored content to engage users and guide them towards desired outcomes. Whether it's enhancing website traffic, boosting sales, or fostering brand awareness, SMM is a pivotal tool in today's competitive digital sphere. It facilitates customer engagement, yielding invaluable insights into target audiences.
Social media marketing services encompass an array of tactics, including influencer collaborations, where brands partner with individuals boasting significant social media followings. In the age of hyper-connectivity, strategic SMM is paramount for effective customer interaction.
Contrasting conventional marketing techniques, SMO services from LDS Group offer not only cost-effectiveness but also superior Return on Investment (ROI). Our approach fuses compelling content creation with innovative strategies, ensuring businesses resonate with their target audience. We boast the networks, expertise, and resources necessary to elevate online visibility and drive success.
2. Cracking the Code of Effective Social Media Marketing
The journey of effective social media marketing commences with meticulous research and goal setting. Our squad of social media experts delves into your requirements, forging a strategy tailored to your objectives. We then embark on content creation, curating posts that strike a chord with your audience across diverse platforms. Our prowess extends to account management and the orchestration of both organic and paid traffic, optimizing content for enhanced search engine rankings.
3. LDS Group – A Beacon of Excellence in Social Media Agency Landscape
As a distinguished Social Media agency in India, LDS Group houses a team of adept social media marketing experts. We identify the optimal channels and tailor content strategies to each platform's nuances. Our spectrum encompasses various endeavors, from crafting impactful posts to spearheading video campaigns. All content is strategically aligned to bolster search engine rankings. User engagement forms a cornerstone of our approach, achieved through thoughtful interactions that drive website traffic.
Our commitment doesn't stop at engagement; we nurture relationships and galvanize action. Through meticulous content optimization, we bolster search engine rankings, tracking outcomes to gauge strategy efficacy.
4. Deciphering the Significance of Social Media
Social media advertising has ingrained itself in our daily lives, offering a platform for global connection and invaluable customer insights. Businesses benefit from this platform for marketing and personal customer interactions. A dynamic social media presence facilitates outreach to potential customers, fostering relationships and conveying brand narratives. Insights into audience preferences are invaluable, shaping strategic approaches.
A robust social media presence confers a competitive edge, allowing brands to engage customers and provide real-time updates on products or services. Influencer collaborations infuse distinct brand voices, magnetizing an expansive customer base.
5. Elevating Business Through Social Media Optimization
LDS Group, acclaimed as the best social media Company in India, champions Social Media Optimization as an indispensable tool. Our comprehensive suite of services fosters brand awareness, propels target audience outreach, and channels robust website traffic. Irrespective of business size, we cater to startups, small enterprises, and established businesses, empowering them with dynamic SMO solutions.
6. Counting the Costs: The Investment in Social Media Marketing
The cost of social media marketing services from LDS Group is customizable based on the package that aligns with your goals. Factors influencing costs include the number of channels, content type, and duration of services. Our tailored packages cater to businesses of all scales. From startups seeking heightened visibility to established entities targeting customer expansion, our pricing is adeptly calibrated.
Undeniably, content creation hours, engagement levels, and strategy intricacies influence pricing. Our SMO packages begin at $550 per month for the basic plan, $750 for the pro tier, and $950 for the elite option. Whichever path you choose, LDS Group guarantees optimal results, fortifying your online presence on social media advertising platforms.
In an era driven by digital connectivity, social media marketing and optimization have emerged as crucial elements of business success. As LDS Group spearheads this realm, we extend an invitation to businesses seeking to conquer the digital sphere – join us in crafting a vibrant online presence that resonates with audiences and propels success.
Benefits of LDS Group SMO Services
Explore Our SMO Services Packages
Searching for SMO packages in India? Discover LDS Group's affordable social media optimization packages, designed to enhance your online presence. Elevate your popularity through our specialized SMO services. Optimize your brand's visibility with tailored strategies across diverse social media platforms. Choose from our range of SMO packages and take a step towards amplifying your reach. Connect with us to unlock the potential of social media optimization for your business.
Exemplary Social Media Marketing Ads Campaigns: A Glimpse of Our Expertise
With unwavering confidence in our prowess, we present our portfolio of outstanding social media ad campaigns. At LDS Group, we consistently deliver top-tier services tailored to your business requirements. Take a moment to peruse our work samples, a testament to our dedication in achieving your marketing objectives.
ARE YOU LOOKING FOR BEST SOCIAL MEDIA MARKETING SERVICES?
LDS Group promises to produce outstanding results and improve your brand visibility, website traffic, and search engine rankings with Social Media Marketing Services in India.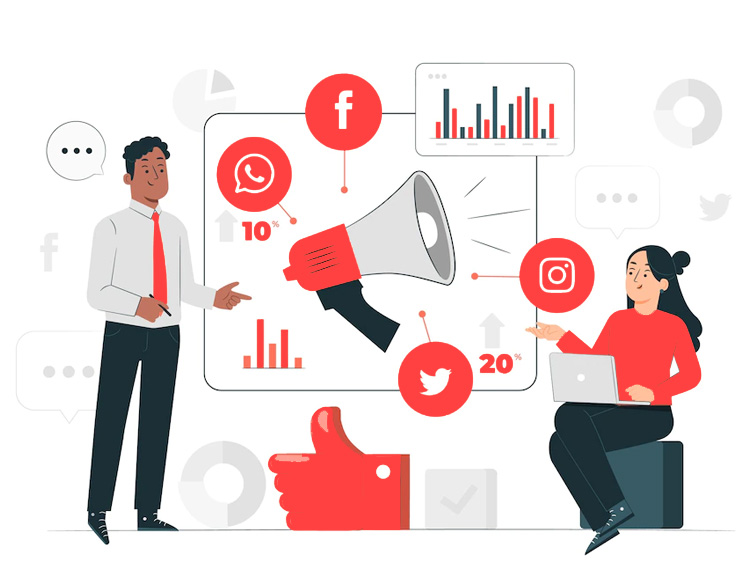 Mastering the Art of Social Media Marketing Strategy for Business Growth
1. Identify Business Goal
The foundation of a successful social media marketing strategy lies in the clear identification of business goals. Our journey begins with a deep dive into understanding your target audience – their interests, preferences, demographics, and behaviors. This is achieved through comprehensive competitor analysis, customer surveys, and the utilization of cutting-edge tools and techniques.
Collaboratively, we work with our clients to delineate short-term and long-term objectives. This collaborative approach ensures that the strategies we formulate are aligned with your goals. In this phase, we also scrutinize the strategies of your competitors, analyze their success rates, and identify avenues for improvement.
2. Understand Your Brands
At LDS Group – Social media marketing agency in India, comprehending your brand's identity, values, and mission is paramount. Our team delves into understanding the essence of your brand message and devises strategies that reflect your brand's uniqueness. We strategically differentiate your brand from competitors, ensuring that your online presence stands out distinctly. We meticulously ensure a unified brand message across various platforms to foster consistency and resonance.
Creating a well-structured content calendar is another facet of understanding your brand. A thoughtfully planned content calendar enables us to schedule posts, videos, and other content in advance, keeping your online presence relevant and engaging. Our focus also extends to crafting compelling brand stories that establish emotional connections with your audience, ultimately fostering brand loyalty and recognition.
3. Research Competitors
Competitor analysis serves as a bedrock for our social media optimization services. Thorough research into your competitors' strategies provides invaluable insights into industry trends and best practices. By evaluating your competitors' content performance, audience engagement, and content quality, we glean insights that fuel our strategies to stand out from the competition.
Strategic competitor analysis enables us to build a superior content strategy and create content that captures attention and engagement. It empowers us to be adaptive, adjusting strategies to evolving industry trends and ensuring you consistently maintain a competitive edge.
4. SMO Content Strategy
Our content strategy revolves around creating engaging campaigns tailored to resonate with your target audience. At LDS Group – Social media company in India, we employ an array of tools and techniques to craft captivating content that sparks engagement, generates leads, and drives conversions. A pivotal aspect of this strategy involves optimizing content for search engines, thereby amplifying its visibility to a wider audience.
Strategically incorporating relevant keywords in posts and titles enhances visibility. By meticulously tracking the performance of each post, we gain insights into what works and what can be enhanced. We understand that social media is about fostering meaningful conversations and connections. Our content strategy encourages interaction, building relationships and trust with your audience.
5. Social Media Tools
Remaining at the forefront of digital marketing necessitates harnessing cutting-edge tools. We employ a suite of social media advertising tools to amplify the impact of your campaigns. Analytics tools enable real-time monitoring, identifying successful strategies and areas for improvement. Automation tools streamline content posting, ensuring timely and consistent engagement.
Being the best social media marketing agency in India, our tool arsenal is bolstered with automation tools like Zapier, IFTTT, and Hootsuite. This synergy of tools and techniques sets the stage for campaigns that not only stand out but also deliver exceptional results, driving you closer to your goals.
6. Analysis and Measurement
The backbone of successful social media marketing services lies in meticulous analysis and measurement. We track campaign performance, meticulously scrutinizing metrics such as reach, likes, comments, and shares. By assessing content efficacy, we gain insights into what content resonates and what areas require enhancement. Our focus extends to measuring impact through conversions, leads, and other crucial metrics.
Leveraging advanced analytical tools, we delve into the customer journey, enabling us to fine-tune strategies for optimal impact. The symbiotic relationship between analysis and measurement facilitates iterative improvement, ensuring campaigns deliver results that align with your marketing objectives.
7. Allocate Budget and Resources
Understanding the pivotal role of budget allocation, LDS Group – Best social media company in India, designs custom budget plans. Collaboratively, we chart a course within your allocated budget, maximizing your return on investment. Constantly monitoring campaign performance ensures efficient budget utilization, optimizing campaigns for better outcomes.
Flexibility is inherent in our approach, allowing us to adapt strategies to shifting budgets. We are cognizant that budget constraints change, and our approach is adaptive to ensure your campaigns remain impactful without straining your resources.
8. Track the Work Progress
Transparency and communication are cornerstones of our approach. Keeping our clients informed and engaged is paramount. We meticulously track work progress, furnishing clients with regular comprehensive reports. Leveraging advanced tools, we monitor campaign performance and provide real-time updates, fostering trust and collaboration.
The iterative nature of our approach ensures that we constantly refine strategies based on real-time insights. The transparent approach nurtures strong client relationships, aligning our efforts with your objectives.
In Conclusion, LDS Group – Best agency for social media advertising from India, is committed to delivering exceptional social media marketing services. Our multifaceted approach encompasses comprehensive analysis, creative strategies, and utilization of cutting-edge tools. With an unwavering focus on your goals, we craft campaigns that resonate with your audience, foster engagement, and drive meaningful results. Experience the power of strategic social media marketing and embark on a journey of accelerated business growth with LDS Group – your partner in social media success.
Unveiling the Dynamics of Our Result-Driven Social Media Marketing Process
In the dynamic landscape of digital marketing, harnessing the potential of social media marketing is indispensable for businesses aiming to thrive and expand their reach. At LDS Group – Social media agency in India, our comprehensive and adaptable social media marketing services empower clients to effectively promote their products and services through various social media platforms. Let's delve into the intricacies of our process, designed to strategically elevate your brand presence:
1. Project Requirements
The journey begins with a collaborative exploration of your project requirements. Our team at LDS Group, recognized as the best SMO Company in India, initiates a thorough discussion to comprehend your objectives and constraints. By gaining a comprehensive perspective on your business goals, we pave the way for a tailored social media marketing strategy that resonates with your unique vision.
2. Social Media Audit
A pivotal step in our process is the Social Media Audit. This multifaceted assessment delves into various facets of your social media profiles. We meticulously evaluate and optimize your organization's presence on social media platforms. Through strategic management and utilization of these profiles, our audit aims to maximize outcomes for your organization. Regular social media audits, an integral component of our strategy, position your business ahead of the competition.
3. Market Research
Following the audit, our focus shifts to comprehensive market research. We delve into the dynamics of your market, comprehending its scope and nuances. By identifying key competitors and understanding the social media landscape specific to your niche, we gather crucial insights. Our social media marketing experts at LDS Group – The leading social media advertising services in India, also analyze your competitors' strategies. Armed with this invaluable data, we craft a robust social media campaign tailored to your business.
4. Social Posting
Consistent engagement with your socially-aware audience is vital. Our team recognizes the significance of regular posting and sharing on social media platforms. Every post and share is meticulously crafted to be accurate, timely, and optimized for your target audience. With adept social media marketers at the helm, LDS Group ensures that your content resonates with your audience, fostering meaningful interactions.
5. Social Media Advertising
Capitalizing on the active nature of social media, our approach incorporates social media advertising. By running targeted paid ads across platforms, we amplify your brand's visibility and reach. Our skilled Social Media Marketing Professionals not only design compelling advertisements but also leverage platforms to engage and convert audiences into active leads.
6. Social Media Management
Ensuring the sustained success of your social media campaigns, we undertake comprehensive social media management. Whether it's paid, unpaid, or a combination, we keep your social profiles vibrant and engaging. This involves proactive engagement with comments and messages. Our commitment extends beyond campaign setup; we accompany you on every step of the dynamic SMO journey.
7. Reputation Building
Building a positive reputation in the digital realm is pivotal. Our approach encompasses harnessing opportunities for industry links, influencers, and strategic partnerships. This contributes to establishing a favorable brand reputation. Additionally, we adeptly manage potential social crises, ensuring your brand trajectory remains upward and steadfast.
8. Performance Tracking and Maintenance
Central to our approach is data-driven decision-making. Our SMO team rigorously tracks and analyzes campaign performance. This data-driven approach guides us in fine-tuning campaigns for optimal results. Additionally, effective management ensures the continued growth of your social accounts. We keep you informed about progress, forging a transparent partnership.
Trusted By Companies
The impact of our efforts is epitomized by the numerous clients who have trusted us. As the premier social media agency in India, we have garnered the trust of over 10,000 clients across diverse industries. Our experience spans companies of all sizes, and we have navigated various market conditions. This wealth of knowledge is a testament to our dedication. Here are a few noteworthy clients we have had the privilege to work with:
In the ever-evolving landscape of social media marketing, LDS Group stands as your unwavering partner, ready to propel your business toward unprecedented heights. Our dynamic approach, fueled by creativity, expertise, and data, ensures that your brand not only thrives but also resonates with your target audience. Experience the transformative power of strategic social media marketing with LDS Group – your catalyst for success.
Client Testimonial: Global Digital Partnership
Our journey is a testament to the remarkable connections we've built with clients worldwide. As a trusted digital partner, LDS Group has woven strong ties through consistent communication and innovative SMO solutions. Our clients' voices reflect our impactful presence in the digital realm. Discover what they say about us, a testament to our commitment as a leading digital brand.
We worked with LDS Group to increase our social media presence and must say that the team did an extremely good job by coming up with creative ideas. Would definitely recommend LDS Group to anyone whos looking for any kind of social media marketing-related services.
We had very good experience with LDS Group for SMO Services and Google Map Marketing Services. We got very good result in hospital patient increase and our presence increase rapidly. Thanks for good efforts. We like to recommend them.
LDS Group had to build our business presence from Scratch. We are happy to say that they are doing the best brand building, digital marketing services and increase leads for the business. We are 100% satisfied with their Google Map, Facebook Promotion, Instagram Marketing.
Success Story and Reviews
At LDS Group, our success story shines through the satisfaction of over 10,000 clients across diverse industries. Our portfolio boasts collaborations with companies of all scales, showcasing our adaptability and expertise in varying market landscapes. With a rich spectrum of knowledge and hands-on experience, we've forged a path to excellence. Here are glimpses of our impactful journey, partnering with noteworthy clients who have entrusted us with their digital aspirations.


Harnessing the power of social media for effective marketing requires a strategic approach.
Here's a simplified guide on how to utilize social media for marketing in five essential steps:
Research Everything: Begin by immersing yourself in thorough research. Understand your target audience, analyze your competitors' strategies, and delve into user behaviors on the specific social media platforms you intend to utilize. The insights gained from research lay the foundation for a well-informed marketing campaign.
Create relevant content regularly: Consistency is key. Regularly share meaningful and engaging content that resonates with your audience. This not only builds trust and reliability but also showcases your up-to-date industry knowledge and willingness to engage in meaningful conversations.
Prioritize quality over quantity: Instead of flooding platforms with multiple posts a day, focus on delivering high-quality content consistently. Low-quality posts may lead to penalties on certain platforms. Aim to provide valuable content that enriches your audience's experience.
Measure your results: Effective social media marketing involves analyzing various metrics to gauge success. Regularly evaluate and track progress to refine your strategies. This assessment not only enhances your current campaign but also guides the setting of new objectives and tracking metrics.
Interact with followers: Engaging with your audience fosters a strong connection. Responding to inquiries, asking questions about your products or services, and using features like emoticons, videos, and GIFs can enhance customer engagement. Consider creating specific groups or using platform features like Instagram Live to spark discussions and interact directly with your followers.
Social media marketing, when executed with a well-structured plan, can yield remarkable results. By following these steps, you can navigate the complex landscape of social media platforms and effectively position your business for success.
ARE YOU LOOKING FOR BEST SOCIAL MEDIA MARKETING SERVICES?
LDS Group promises to produce outstanding results and improve your brand visibility, website traffic, and search engine rankings with Social Media Marketing Services in India.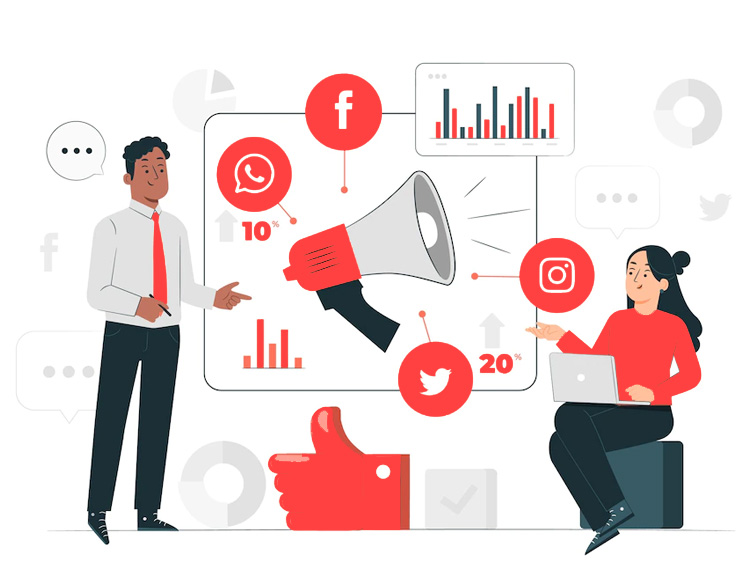 Our Social Media Marketing Strategy
Navigating the realm of social media requires a well-crafted strategy to avoid cluttering platforms with irrelevant content. At LDS Group, our focus lies in delivering high-quality content, and our approach encompasses the following key strategies:
1. Set Clear Business Goals
We work with businesses of all sizes to help them achieve their social media objectives. By keeping our strategies concise and effective, we ensure enhanced engagement with your target audience, propelling your business ahead of the competition.
2. Stay Abreast of Trends
Adapting to rapidly changing social media trends can be challenging. Our commitment to staying updated empowers brands to achieve significant success, fostering a dedicated and enthusiastic customer base.
3. Craft Compelling Content
Irrespective of your brand's tone—be it casual, formal, serious, or light-hearted—we facilitate meaningful connections with your audience. Our expertise includes boosting user-generated content to elevate your social media accomplishments.
A well-executed social media marketing strategy can elevate your brand's online presence and foster authentic connections with your audience. With our meticulous approach, we ensure that your social media endeavors are impactful and resonate effectively with your target market.